Stichtse Vecht (Woerden) custom made modular, circular carpet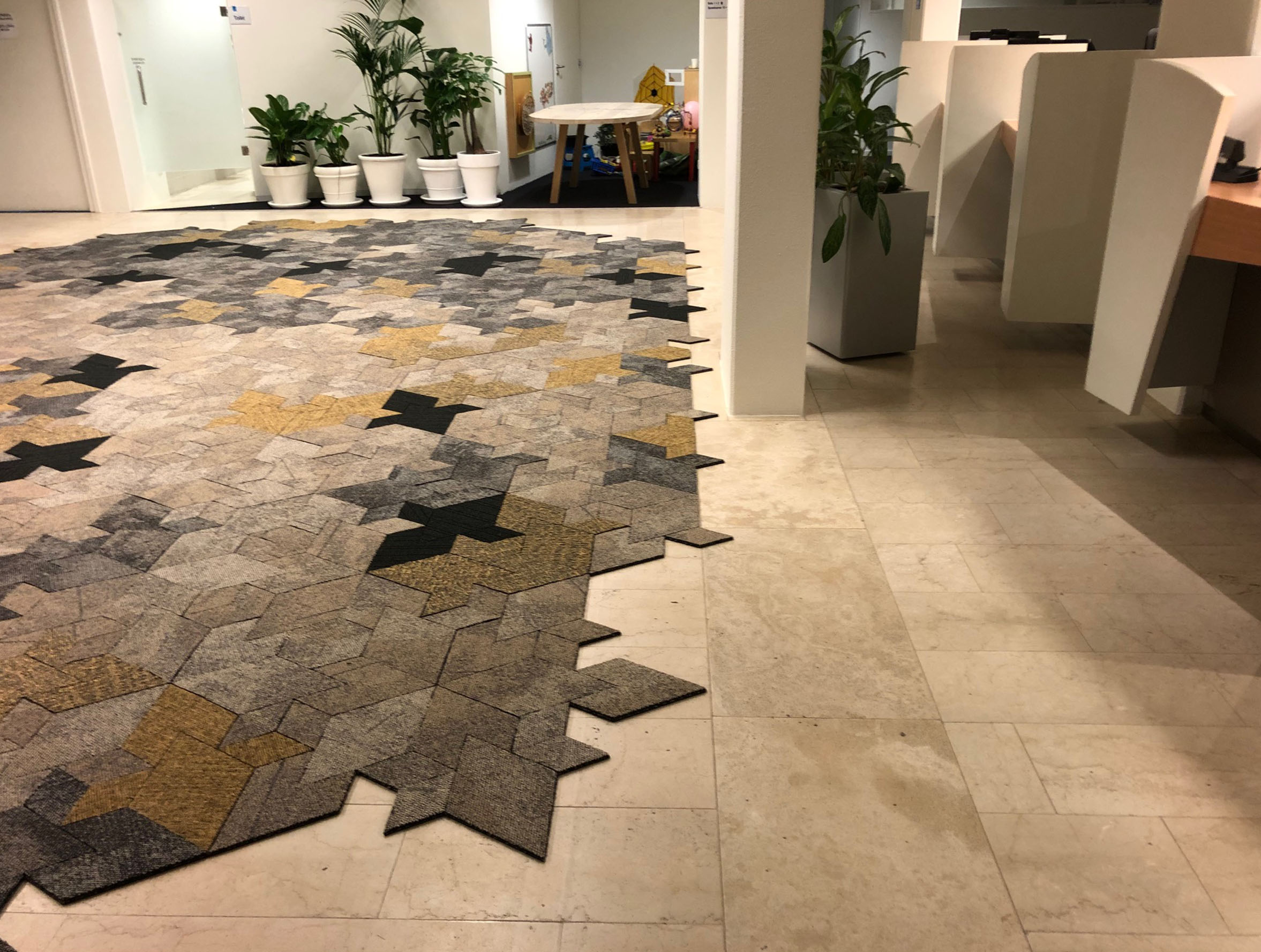 Producer: Studio Wae

Assignment by: GZ OfficeXperience

Product name: Circular City Carpet

Material: 100% circular modular carpet inspired by M.C. Escher

Colours, patterns: Multiple colours from our circular stock in the City shape

Maximum size tile 60 x 48 cm.

Styles: Modern, industrial, design, vintage

Quantity: 35 m2
Unique product properties: 100% produced from waste material from Interface and Tarkett (Desso) with social impact. The carpet consists of separate components that are connected by a unique clicking system to create a solid carpet. This makes each carpet unique in form, size and colour combination. Next to this, Studio Wae focuses on working for an honest pay for Syrian status holders. Finally, the product is climate neutral with a negative Co2 Footprint.
Products: Modular circular carpets
Specific product information:
Available in more than 80 different colour combinations. Also suitable to process the 'Urban Mining' material from your own project. Create your own Wae: "personally choose your colours in our workstation or make a moodboard and choose from Studio Wae's suggestions.
Collaborating partners: GZ OfficeXperience, Erkamp Projectservice
Studio Wae produced a modular and circular carpet for Stichtse Vecht in Maarssen. The architect of GZ OfficeXperience and the commissioner visited Studio Wae's workstation where they chose their unique colour combination for the carpet from more than eighty pallets with different colours. After that the beautiful tiles in the characteristic City shape were produced. The tiles ae completely made from production waste of Tarkett and Interface and form an amazing carpet with geometrical shapes and depht. It is no standard rectangle carpet but sits organically in the room. If the outlay of the room changes, the carpet can easily change with it, as the separate tiles can be detached and clicked back together in another design.